Children's Ministry 2PK-2nd Pres Kids
The Children's Ministry of Second Presbyterian Church seeks to inspire children through the development of their faith and their knowledge as they grow in love of God and the world.
To register with 2PK, please complete the following form.
To sign up for 2PK correspondence, please email Chelsea Beasley at cbeasley@2ndpreslou.org.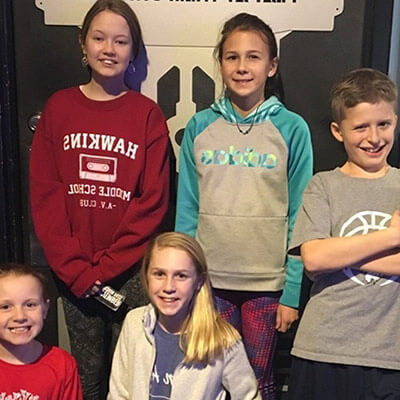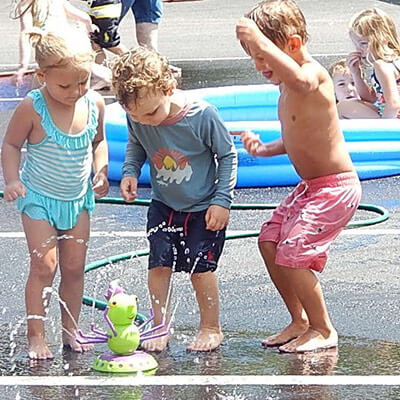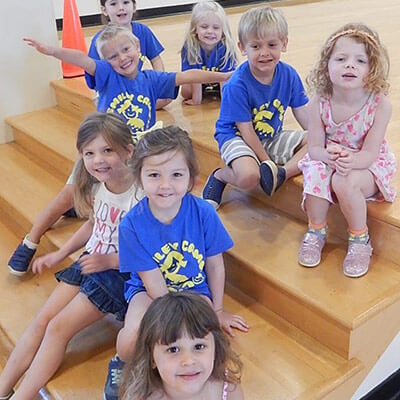 Sunday School for 3's - 5th grade
Children's Sunday School (3's-5th grade) will take a break for the Summer and plan on resuming in person in the Fall. Videos for previous Sunday School lessons are located under the Resource tab.
Childcare
Childcare is available for children ages 4 and under for both the 9am & 11am services in the nursery, located in the Infant Toddler hallway of the Weekday School. At this time, children K-5 will be asked to sit with their families during worship. A children's bulletin will be provided as well as extra resources in the children's resource room located adjacent to the Narthex during 11am Worship and on the "Worship Wagon" in the back of the circle drive during 9am Worship.
Wednesdays Together
Wednesdays Together is a time for friends and families to fellowship together with dinner, children's choirs, youth fellowship, adult studies, and gym time. For more information on Children's Choirs, click here. There are two semesters, the fall which runs September-November and the spring which runs January-April. Reservations are needed by Monday at noon of each week. There is a suggested donation of $5 per person with a $15 family cap for the meal.
Dinner in the Great Hall: 5:30-6:00 p.m.
All Classes: 6:00-7:00 p.m.
The Second Presbyterian Weekday School has been a ministry of Second Presbyterian Church since 1955 and is committed to meeting the developmental needs of children in their formative years, 6 weeks of age through kindergarten.
Summer Programming
Registration begins April 1st, 2021.
All summer events at Second Presbyterian will operate according to the current guidelines set forth by our Session, the Mid-Kentucky Presbytery's recommendations, and current CDC and state during the weeks the camp is in session.
All camps will be running at a limited capacity.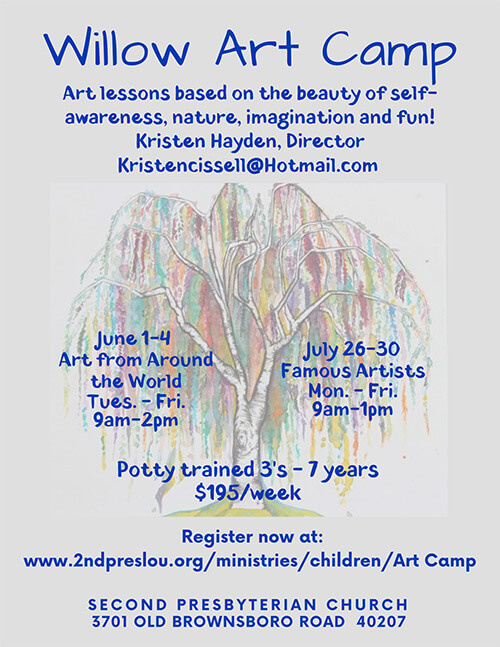 Willow Art Camp
June 1-4 9:00am-2:00pm
July 26-30 9:00am-1:00pm
Registration is currently full.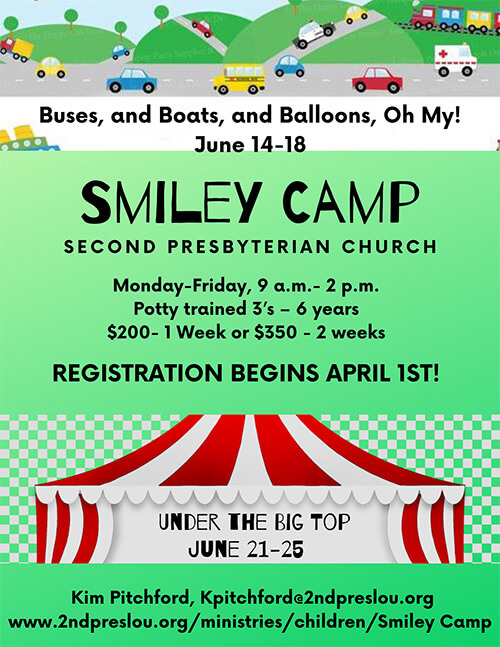 Smiley Camp
June 14-18 9:00am-2:00pm
June 21-25 9:00am-2:00pm
Registration is currently full for both weeks.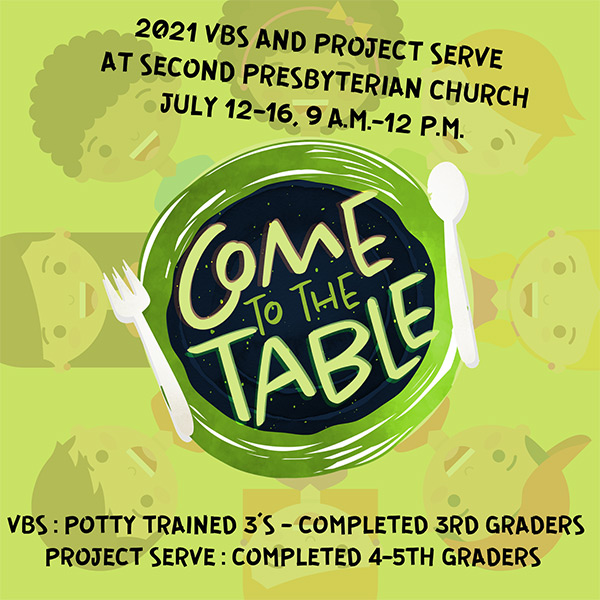 Vacation Bible School
July 12-16 9:00am-12:00pm
Registration is currently full.
Project Serve
July 12-16 9:00am-12:00pm
Project Serve is a ½ day service camp for children who have completed 4th & 5th grades. This is a mission based program focused on community service. Participants spend each day in the surrounding community volunteering their time at organizations such as: Uspiritus-Brooklawn, Farnsley Moorman House, Westminster Terrace, Family and Children's Place, Metro Parks and West End School.
Register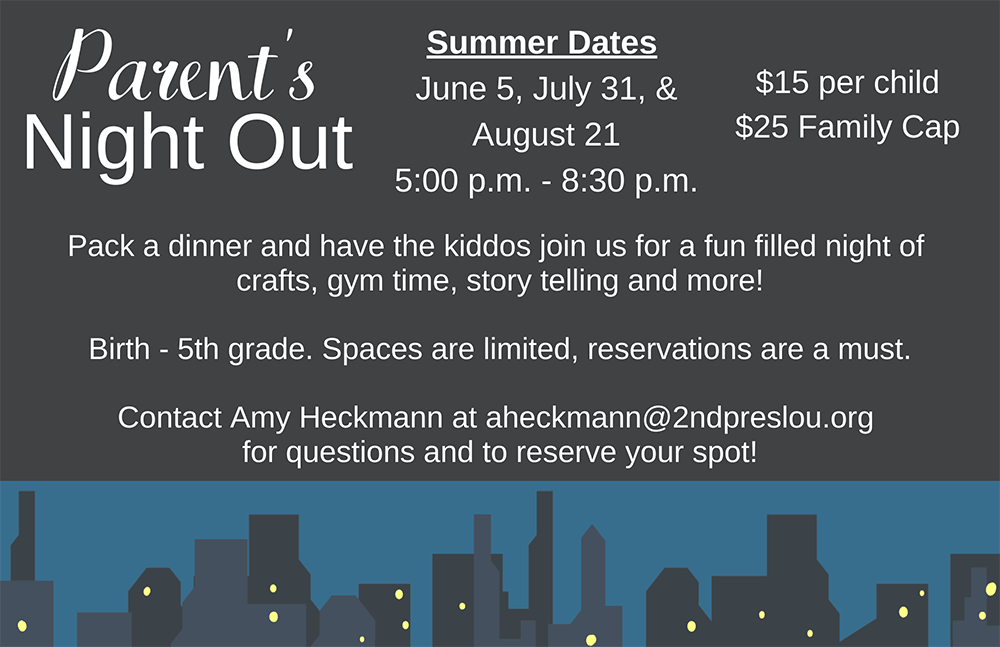 Parent's Night Out
Summer Dates: July 31 & August 21
Time: 5:00 p.m. - 8:30 p.m.
Cost: $15 per child, $25 family cap
Ages: Birth - 5th grade
Pack a dinner and have the kiddos join us for a fun filled night of crafts, gym time, storytelling and more!
Reservations are a must! Please contact Amy Heckmann at aheckmann@2ndpreslou.org for questions and to reserve your spot!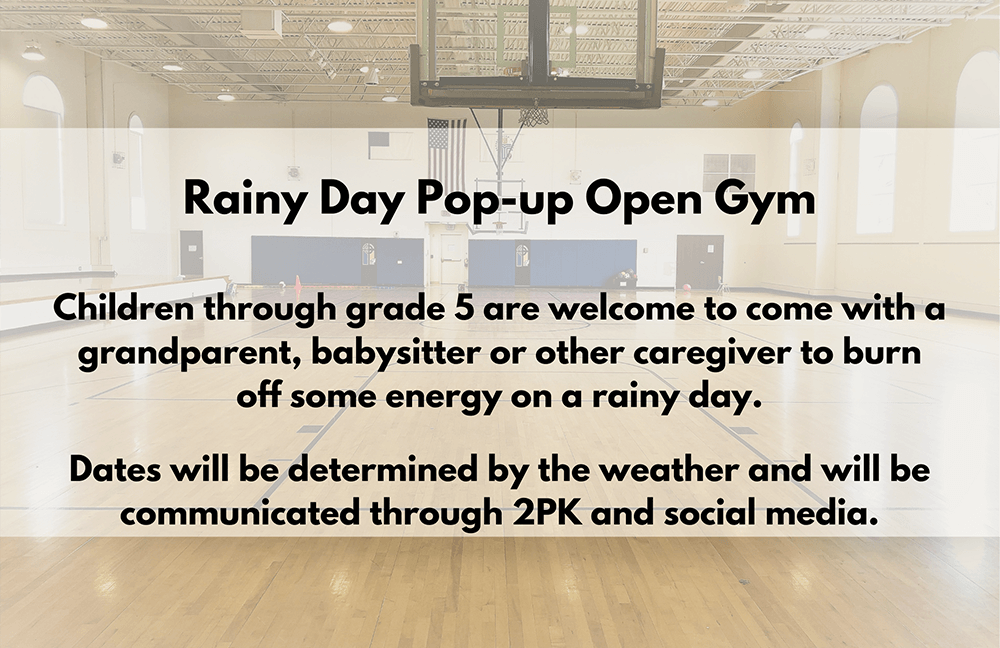 Rainy Day Pop-up Open Gym
Children through grade 5 are welcome to come with a grandparent, babysitter, or other caregiver to burn off some energy in a rainy day.
Dates will be determined by the weather and will be communicated through 2PK and social media.